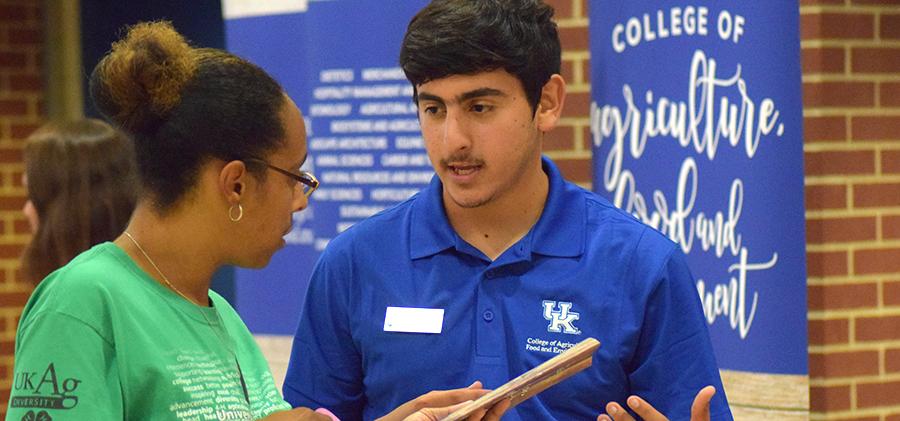 The College of Agriculture, Food and Environment is now accepting applications for 2018-19 college ambassador positions. 
College ambassadors serve the college and assist with student recruitment, speak to community and university groups, plan social, philanthropic and educational activities for peers, assist with alumni functions, and represent the college at receptions and meetings.
To be considered, students must: 
Have completed a minimum of 25 semester hours of college level credit (15 hours must have been taken at the University of Kentucky) by the end of the Spring 2018 term;
Have a minimum cumulative grade point average of a 2.75 GPA;
Be pursuing a major in the College of Agriculture, Food and Environment;
Show potential to demonstrate a polished public speaking ability, an ability to think on their feet, to motivate, the ability to interact with others on a formal and informal basis, and to present a positive image of the institution;
Demonstrate the potential for leadership ability and reputation for good citizenship;
Be willing to develop a good knowledge of the College of Agriculture, Food and Environment and the University of Kentucky as a whole.
Additional expectations of the college ambassador role:
A full commitmentment for the 2018-19 academic year with the opportunity to reapply for the 2019-20 academic year; 
Enrollment in a one-credit hour course each semester (GEN 300); the course will meet Thursdays 6:30 to 7:20 PM during the fall and spring terms; 
Regional travel (expenses covered by the college);
Attendance at an end-of-year banquet (dates will be shared during the interview/invitation process);
Attendance at the Ambassador Training Retreat (date TBD).
Application Process:
Applicants should complete the ambassador application by noon on Friday, March 9; students will be asked to upload a resume in PDF format.
Instead of a nomination-to-apply process, applicants will list two references in their application.  

References must be faculty or staff members affiliated with the UK College of Agriculture, Food and Environment.  

Depending on the applicant's persistance in the process, the two references will be asked to completed a short, 5-10 minute evaluation about the applicant (administered, electronically).  Applicants are advised to connect with potential references and have an appropriate conversation 

prior to

 submitting an application featuring their names and info.

This year's selection process will feature multiple parts, including a 

group interview component

.  If selected from the application, applicants can expect to participate in a group interview session 

during the week of March 19

.  

Tentatively, if applicants persist through the group interview, they will receive information about an interview possibility to take place 

between March 29 and April 3

. The interview will be a hybrid of traditional interview questions and a brief (3-5 minute) presentation on a topic distributed at the point of invitation.

Invites to join the ambassador program (as well as wait-listed and declined candidates) will be distributed on April 13.
Questions may be directed to Wayne Centers, Director of Student Relations.