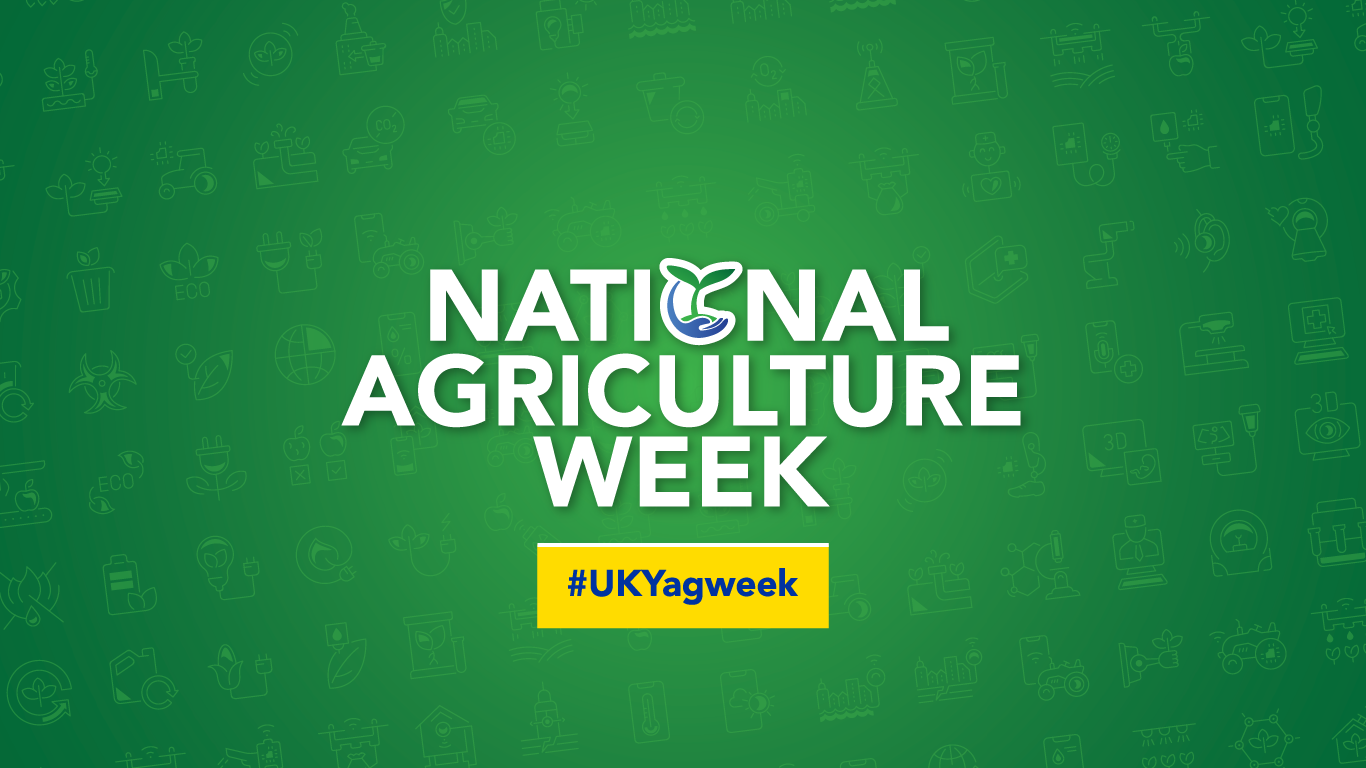 The University of Kentucky College of Agriculture, Food and Environment (CAFE)
invites students, faculty, staff, and the general public to celebrate
National Agriculture Week
happening March 20 - March 26. 
Agriculture is as essential as Water & your abcs
To celebrate National Agriculture Week, the UK CAFE is sharing its new "ABCs of Agriculture" poster with educators, community organizations and advocates at large. Also, Ag Week appropriately overlaps with Lexington Water Week which celebrates the importance of water and our role in protecting it. The City has events for all ages.
Request an Ag ABCs Poster
Lexington Water Week Schedule
To find an event best suited to you, see our color codes below. 

 General Public Events

 Campus Community Events
Remember to join the conversation online using #UKYagweek
Sunday, March 20
Charity Ride Benefiting UK Campus Kitchen    12:30 at CycleBar
The UK Department of Dietetics and Human Nutrition is hosting a charity ride for UK Campus Kitchen, a student-powered organization dedicated to reducing food waste and eliminating food insecurity. Shoes are provided and an RSVP is required. Click here for details and registration instructions. 
Monday, March 21
Ag Story Day: Members of the UK community are encouraged to share a photo and testimony about their story and connection to agriculture. Whether traditional or unconventional, tell your friends and followers about what agriculture means to you using #UKYagweek.
Ag Week Kick Off    10:00 AM - 1:00 PM in Ag North Common Grounds
Join CAFE ambassadors for free giveaways and information on the week's events. 
 
College Scholarship Deadline     (App Deadline)
Monday, March 21 is scholarship deadline for current students and incoming transfer students in the College of Agriculture, Food and Environment. A 2.6 GPA is required to apply. Click here for more details.


Intern in D.C. with WilDCats at the Capitol   (App Deadline)
Federal decision making affects agricultural, environmental and hunger policy across the country. For those interested in law and government, CAFE encourages its students to apply to the University's WilDCats in the Capitol program. This is a semester-long government internship where students can intern with federal policy makers and earn academic credit. The deadline to apply is Monday, March 21. For more details, including information on scholarship opportunities, click here. 
Tuesday, March 22
National Ag Day:  Celebrate agriculture in what ever way you know best with #UKYagweek. Share an unknown fact, a photo of your favorite farm animal, a locally-sourced recipe - make it your own. Businesses, non-profits, schools and other groups nationwide will be celebrating too. 
Pop-Up Opportunity Fair    10:00 AM - 1:00 PM in Ag North Common Grounds 
Join local employers Seedleaf, Lexington Parks & Recreation, UK Extension and others to learn more about current and upcoming job opportunities. CAFE Student Council members, CAFE ambassadors and campus offices such as UK Education Abroad, Stuckert Career Center and Office of Undergraduate Research will also be in attendance. 


UK Education Career Fair    3:30 to 6:00 PM online via Handshake
Future agriculture teachers, environmental educators, school nutritionists and others are invited to join the annual University of Kentucky Education Career Fair. More than 60 employers will be in attendance. To see the complete list of employers, and to register, log in to Handshake.


CAFE Student Council Application Deadline  
Tuesday, March 22 is the deadline for students to submit their application for an executive officer and/or class representative position. Click here fore more details. 


Stormwater Quality Projects Incentives Grants  6:00 PM Online
Join a virtual Q&A about Lexington neighborhood stormwater grants. This event is part of Lexington Water Week, sponsored by the College of Agriculture, Food and Environment, the Kentucky Water Resources Research Institute and the City of Lexington. Click here for details.
Wednesday, March 23
Thank a Farmer: Express appreciation for those who feed the world. Whether you know a farmer personally or just appreciate our producers, all are welcome to share a message of thanks on their social media with #UKYagweek. 
Thank A Farmer (or Special Someone)  All Day in N24 Ag North  
Farmers are good for the world, and gratitude is good for the soul!
Stop by the College's Wellness room to send a note to your favorite farmer (or special someone). Custom cards and postage will be provided.


4th Annual Kentucky Local Foods Summit  8:00 AM to 6:00 PM at Kroger Field 
The UK Food Connection, in partnership with Bluegrass Farm to Table, the Kentucky Center for Agriculture and Rural Development, and the Kentucky Department of Agriculture, invite all those interested to join a full day of workshops, networking, and conversations bringing together local food professionals and advocates who work on the front lines of growing our local food and farm economy. Click here for details and to register. 


Farm to Fork Lunch Pick-Up    11:00 AM ro 1:00 PM in N24 Ag North or 207 Funkhouser 
UK Campus Kitchen offers a locally sourced, nutritious lunch free to all UK students on Wednesdays throughout the semester. Limited socially distanced seating will be available on a first come, first-served basis. All other meals may be take to-go. UK students planning to attend should register on BBNvolved.


Mulch Madness    Noon to 2:00 PM at W. T. Young Library
Join the Urban Forest Initiative and the University of Kentucky Grounds team as they host Mulch Madness at the William T. Young Library. Volunteers will be mulching trees, as well as learning skills that can be used in their own yards to promote healthy tree growth and healthy soil.


Community Dinner  5:00 to 6:00 PM in 207 Funkhouser   
UK Campus Kitchen and Off-Campus Student Services invites all UK students, staff and faculty to join their community dinner. Attendees must RSVP in advance. 
Thursday, March 24
Ag Trivia Day: Share a little-known ag fact using #UKYagweek. Also, watch the college's Instagram account for opportunities to test your ag knowledge and win giveaways. 
Pre-Vet Info Session    4:00 to 5:00 PM on Zoom
All those interested in pre-veterinary medicine are invited to join this event to learn more about professional and academic preparation in the field. The UK pre-vet advisor, current pre-vet students and UK alums will be in attendance to answer questions and share their experience. Overall, this session will be geared towards high school preparation tips and early college coursework. Click here to access the Zoom link. 


Let's Talk in Ag North  3:00 - 5:00 PM in CAFE Wellness Room (N24)
This is a time for students to drop in for an informal meeting and discuss anything that may be on their mind. During these conversations, counselors may offer guidance in addressing students' needs and direct them to services as appropriate. Talks will last approximately fifteen minutes or longer when time allows. For details on the Counseling Center's other Let's Talk locations, click here. 


UK Farm Stand   4:00 to 6:00 PM in the UK Orange Lot adjacent to ES Good Barn
Organic produce from the UK South Farm will be for sale to the campus and greater Lexington community. Available produce will include 

carrots, collards, garlic powder, kale, lettuce, spinach, sweet potatoes, Swiss chard, winter radishes, and more.




UK Winery Sales  4:00 to 6:00 PM in the UK Orange Lot adjacent to ES Good Barn


All proceeds from wine sales go directly to supporting ongoing grape and wine research that serves to advance the commercial wine industry of Kentucky. University of Kentucky wines are only available for purchase by the following UK affiliates: students, full or part-time employees, and retired employees. 

Wine can be purchased through the on-line store (

http://winery.ca.uky.edu

) and picked up on the following days and locations during Agriculture Week:

Pick up at the UK Horticulture Research Farm:


Monday March 21 (12:00 to 4:00 PM)

Wednesday March 23 (12:00 to 4:00 PM) 

Pick up at the ES Good Barn (along with the UK CSA Farm Stand): 

Thursday March 24 (4 pm - 6 pm) 

 
Forested Stream Buffers Virtual Field Day 

 

  7:00 PM on Zoom
Learn about the importance of forested stream buffers on the landscape, how to establish and manage stream buffers, and how to incorporate them into your land management plans. Click here for more details and to register. 
Friday, March 25
Ag Gives All Day:  Throughout Kentucky, there are dozens, if not hundreds, of non-profits working in areas related to agriculture. From food banks to  preservation associations, those working across agriculture are equal parts heart and hard work. Show them some love. Use your social media to give your favorite non-profit a shout out, and promote their work.


UK Equine Forum    8:00 AM at UK Good Barn, Weldon Suite
Drs. Fernanda Camargo, Bob Coleman and Ray Smith will be presenting the newest equine-related services and initiatives from UK Cooperative Extension. 


Farm Road Rain Garden CATchment Cleanup  3:00 - 6:00 PM 
The Biosystems and Ag Engineering (BAE) Student Branch is hosting a volunteer event focused on green infrastructure for stormwater management. Students, faculty and staff are invited to learn more and join in helping to clean out the UK Rain Garden. 


Opportunities to Volunteer 
Looking for a service opportunity?  There are many options to give back on campus and throughout the Lexington community. 
  GivePulse via BBNvolved (UK Students)
  Volunteer Match (UK Students and General Public)
  Step Forward Lexington (UK Students and General Public)
Other Upcoming Programs
CAFE Ambassador App Deadline   Monday, March 28
Undergraduates in the College of Agriculture, Food and Environment are invited to apply to the College Ambassador program. A 2.75 GPA is required to apply. For more details, click here.  
UK Horsey Hustle 5K  Sunday, April 3 at 2:00 PM at Coldstream Park
Join UK Ag Equine Programs for their Horsey Hustle 5K benefiting the program's new Student Experience and Applied Education Fund. For more information, and to register, click here. 
UK Community Supported Agirculture (CSA)  Ongoing
The UK CSA project links faculty, staff, and students from the UK community with the Organic Farming Unit located at the UK Horticulture Research Farm. The CSA project is not a commercial farm and is not managed for profit. All financial proceeds from the sale of CSA shares support the production of food during the growing season and student educational activities of the Sustainable Agriculture program. In order to decide if the UK CSA is a good fit for you, please read the 2022 CSA Share Terms & Conditons.