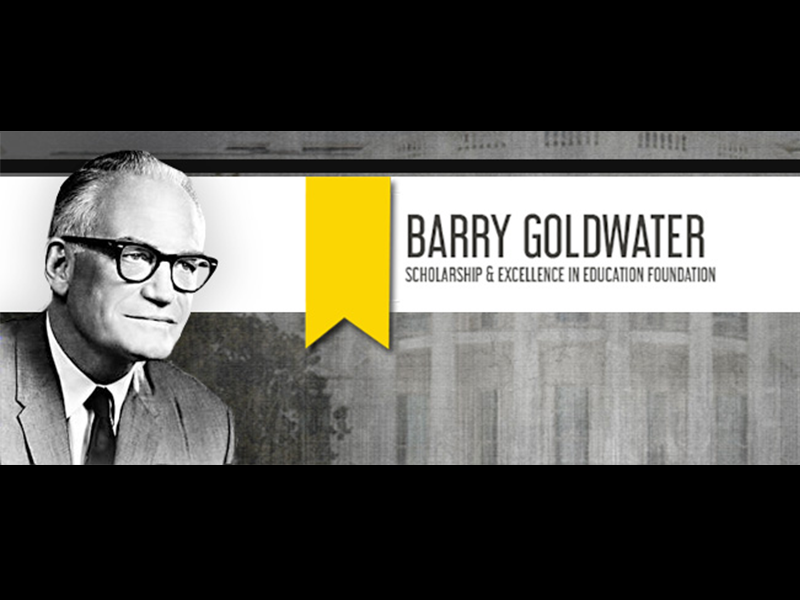 The Barry Goldwater Scholarship
The Barry Goldwater Scholarship and Excellence in Education Foundation was established by Congress in 1986 to serve as a living memorial to honor the lifetime work of Senator Barry Goldwater, who served his country for 56 years as a soldier and statesman, including 30 years in the U.S. Senate.
Each Goldwater Scholar annually receives an amount equal to the cost of tuition, mandatory fees, books, and room and board minus the amount of support provided for by other sources, up to a maximum of $7.500 per full academic year.
To be eligible, students must:
Be a full-time1 matriculated sophomore or junior pursuing a degree at an accredited 2- or 4-year institution of higher education during the 2021-2022 academic year.

Intend to pursue a research career in natural science, mathematics, or engineering.

Have a college grade point average of at least 3.00 on a 4.00 scale.

Be a U.S. citizen from the 50 states or the District of Columbia; a U.S. national for those students nominated by institutions in Puerto Rico, Guam, Virgin Islands, American Samoa, and Commonwealth of the Northern Mariana Islands; or a permanent resident. A permanent resident must submit a photocopy of their Permanent Resident Card, also known as the Green Card.
 General guidance for the Barry Goldwater Scholarship process:
Carefully read and review all of the required application information and materials.
Contact the Goldwater Scholarship Campus Representative (CR) as early as possible to inform the CR of your interest in applying. Carefully follow your CR's instructions regarding the campus application process.
Know and stay on top of all deadlines (including those set by your institution's CR and those established by the Goldwater Program).
After discussing prospective references with your CR and determining whom you will ask to write your letters of recommendation, contact your letter writers as early as possible–no less than a month, but ideally more than a month in advance of the campus deadline.
Work with individuals who can assist and provide feedback throughout the application process (i.e., Goldwater CR, mentors and LOR writers).
Make certain the information provided is accurate and reported in the way that is asked for in the application.
Proofread, reflect, revise, and again proofread, reflect, revise–all application materials! Enlist others to review the application for science, grammar, format, etc.
Plan to apply? Reach out to the UK Office for Nationally Competitive Awards for guidance. 
Click here for more details and to access the application portal. 
---