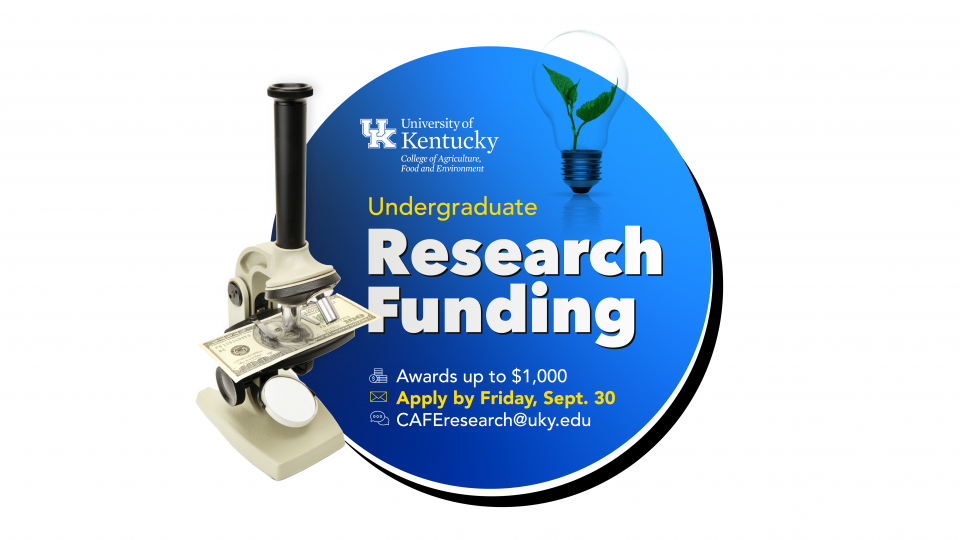 Research Grant Deadline
Funding for undergraduate research opportunities is available now through the College of Agriculture, Food and Environment (CAFE). The funding for this 2022/23 academic year opportunity is provided by the UK Vice President for Research, through the Office of Undergraduate Research, and it is coordinated by the CAFE Center for Student Success and the CAFE Research Office.

Similar to the CAFE Research Activity Award program each fall, the focus of this funding is to enhance undergraduate's experience and innovation in research.

Thus, these awards will be made on a competitive basis to undergraduate students to gain research experience, complementing their coursework. Additionally, students selected by their program to apply will benefit from compiling the application for competition.

Eligibility: 
Students should be prepared to explain their project or activity, including its significance, objectives, research methods (if applicable), and its relevance to their academic/professional goals. Additionally, those applying for these funds must...
Be in good academic standing
Have a letter of support from their faculty research mentor
Be participating in an undergraduate student research project or research seminars/symposia/workshops/etc.  
Have expenses associated with the aforementioned project or activity (e.g., lab supplies, travel to conduct research or present research findings, etc.)
Enrollment in a 395 course, or similar research course, is encouraged but not required.
Level of Support: 
The awards will be available for up to $1,000. Funds are to be expended by June 30, 2023. There will be no extension period for this funding. Requests may include some level of department or other match.

Application Deadline: 
Applications should be submitted via the form below by Friday, September 30, 2022. 
---