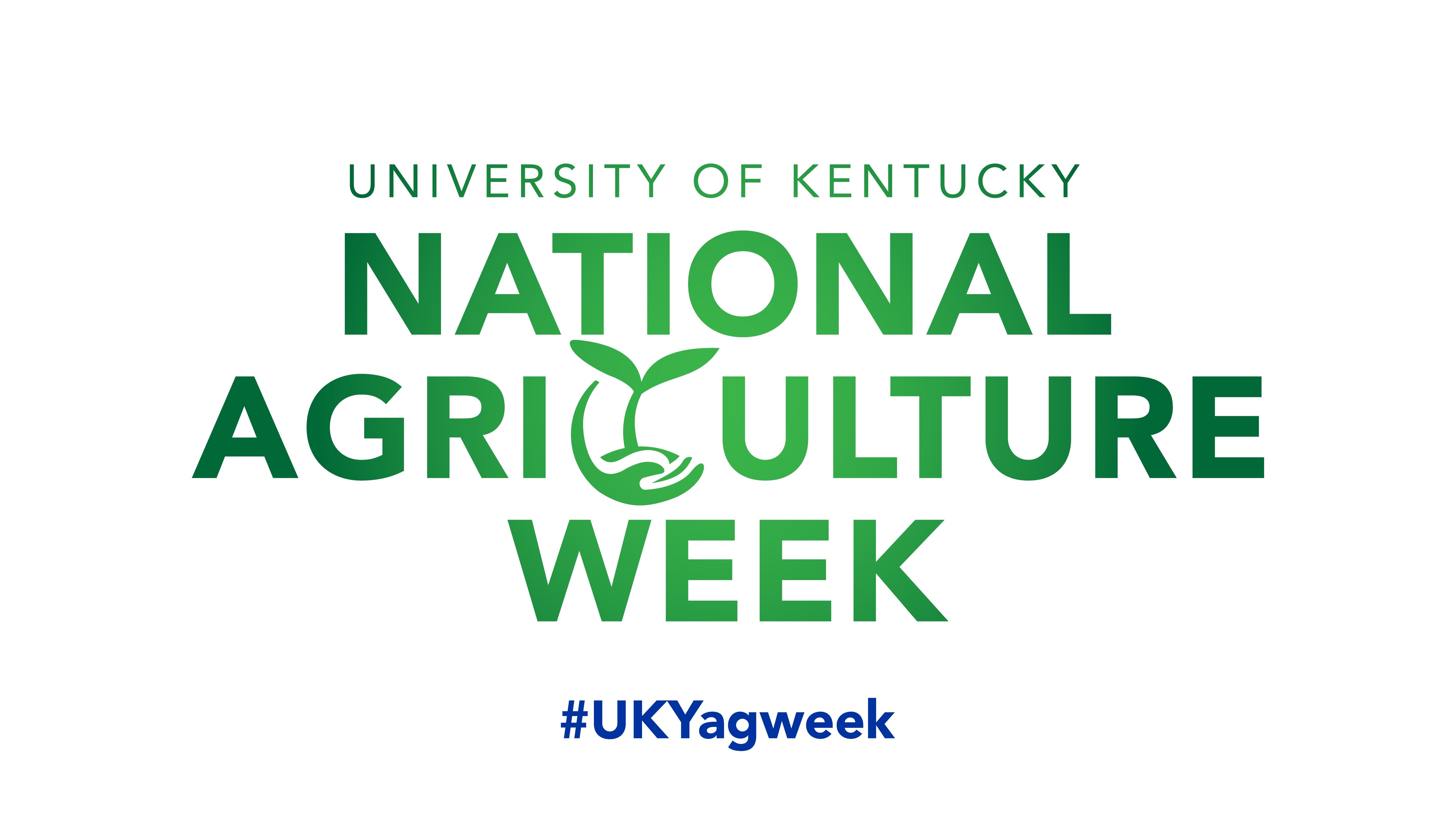 The University of Kentucky College of Agriculture, Food and Environment invites students, faculty, staff, and the general public to celebrate 2023 National Agriculture Week happening March 19 - March 25.

Highlighted Events
Careers & Commodities Kickoff
Monday, March 20 from 10:30 to 1:30 Ground Floor, Ag North
Read More
Ag Trivia Night at Mirror Twin Brewing
Tuesday, March 21 at 6:00 w UK CAFE Alumni Association
Get Directions
Ag Gives All Service Day Across Lexington
Friday, March 24 at various locations around Lexington
Sign Up
Ag Week Events & Social Themes
Throughout the week, the public is encouraged to use #UKYagweek for several chances to win a UK CAFE themed prize pack. While all contributions are welcome, the college will highlight particular themes on each weekday: 
Monday, March 20 - My Ag Story: Share how/why you got involved with ag. Whether a traditional route or pure coincidence, tell us about your path to agriculture and the impact it has made on your personal/professional life.  
Tuesday, March 21 - Ag Trivia Day (also National Ag Day): Share some ag info related to your interests or area of work—dispel myths, educate consumers or just share a little known fun fact.  
Wednesday, March 22 - Thank A Farmer: Gratitude is good for the soul and who better to thank than those who feed the world?! Send a special note to your favorite farmer and/or give them a shout out on social media. 
Thursday, March 23 - My Ag POV: As the kids say "POV," meaning "point of view." Show us your vantage point of agricultural work whether it's mucking stalls, in the greenhouse or in the office! We want to highlight the many views of the agricultural industry.   
Friday, March 24 - Ag Gives All: Give a shout to your favorite ag-related non-profit. Better yet, grab some friends/colleagues and lend a hand of service to a neighborhood organization in need!