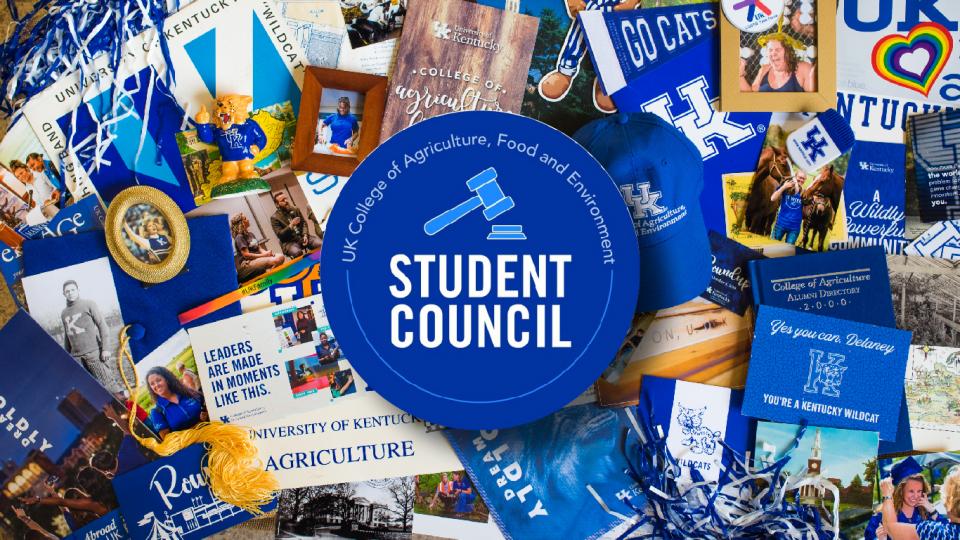 Apply for Student Council
Do you want to be a voice for your fellow students? 
The College of Agriculture, Food and Environment is seeking applications for its 2022 - 2023 undergraduate Student Council.
About the Positions Available:
Within this application, you'll be able to apply for up to two separate positions:
Executive Officers - Choose one option between Secretary, Treasurer, or Communications Director
Class Representatives - Choose your class from Sophomore, Junior, or Senior
Position Descriptions:
Secretary: This position records the proceedings of the Council, manages student organization registration, handles the correspondence of the Council, creates and posts minutes within the council GroupMe. The secretary must be present at each meeting and keep records of attendance for the executive team.
Treasurer: This position keeps records, receipts, and disbursements of the Council. The Executive Treasurer will also create a budget for the Council to follow each year.
Communications Chair: This position coordinates all notifications for meetings and events and manages the Council's social media. The Communications Director also creates correspondence for events to be published by council members. 
Class Representative: These positions (up to three per class) serve the council on committees as designated by the executive team and serve as a communication link between the council and their designated class.
About the CAFE Student Council:
Those who serve on the council strive to make our college a better place for its students, staff, and faculty. We do this in many fun and creative ways. Here are our objectives as of January 2022
Members of the CAFE Student Council strive to:
Provide leadership experience for members
Facilitate communication between student organizations in the college
Provide a forum for communication between students, student organizations, and the administration in the college
Facilitate a collegial environment between students and faculty
Promote and recognize excellence in student and faculty scholarship
Promote the general welfare of all students in the College of Agriculture, Food and Environment
In addition to the duties described above, all Student Council members act as the student voice to college administration, coordinate annual fundraisers, and organize a variety of events for the general student population including the Annual Clothing Drive, Roundup events, and Barn Dance.
The deadline to apply is Tuesday, March 22.
Click here to submit an application and for more information. 
---