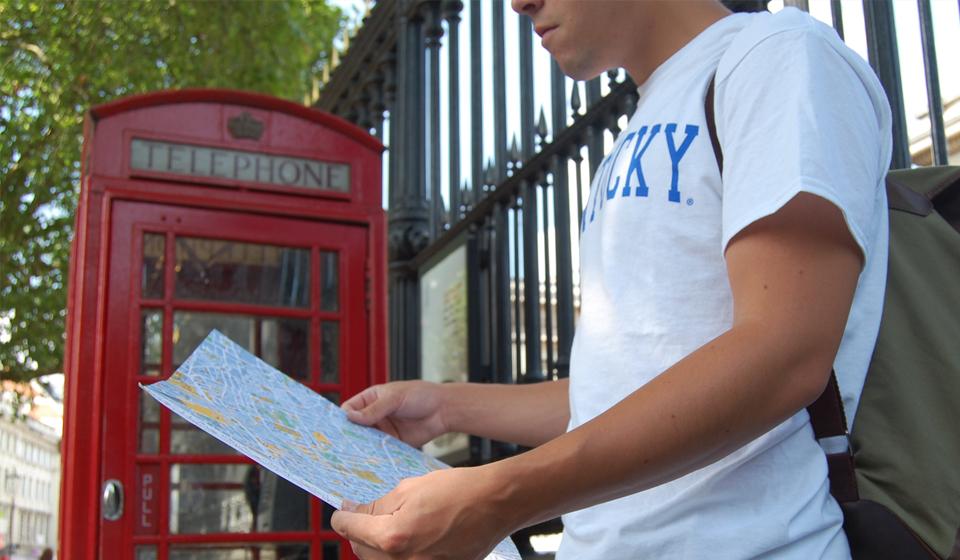 Being successful in today's diverse, interconnected workforce means having intercultural knowledge and a global understanding of your industry.  As a student at the University of Kentucky, you are encouraged to fulfill degree requirements while participating on an education abroad program.  There are a variety of opportunities including study abroad, intern abroad, research abroad, service abroad and teach abroad programs.  Depending on your goals, area of study and comfort-level, programs can range from two weeks to a full semester or longer. 
CAFE Fall 2022 Part of Term Programs
Application Deadline: October 5, 2022
Travel Dates: December 31, 2022 - January 8, 2023
Program Contact: Dr. Lou Hirsch, robert.hirsch@uky.edu
Course Credit: NRE 390 (3 hours) + EAP 599 (1 hour)
This course introduces students to ecological concepts and important natural resource issues in coral reef environments while earning relevant scuba diving certifications.  The island and surrounding reefs of Cozumel, Mexico, will be our laboratory as we develop and refine aquatic skills necessary to investigate coral reef ecology. You will have the opportunity to earn numerous scuba certifications (depending on previous training) while learning about the impact of environmental stress on coral reef ecosystems.  Topics include coral reef conservation, fish identification and quantification, underwater surveying, turtle biology, ecologically sensitive diving techniques, ecotourism, and the impact of globalization and climate change.
Note: This is a part of term course that meets T 2:00-3:15 beginning October 18.
CAFE Winter 2022 Programs
Application Deadline: October 2, 2022
Travel Dates: December 26, 2022 – January 8, 2023
Program Contact: Dr. Alison Gustafson, alison.gustafson@uky.edu
Course Credit: DHN 318 (3 hours) + EAP 599 (1 hour)
This program brings together the role of the biological processes that influence hunger with the physiological responses to cues in the social and neighborhood environment that influence what people eat. The connection between what people eat and lifelong health consequences of dietary patterns can be seen at the individual, familial and community level. Topics in the course offered will include hunger and satiety, the nutrition transition - how modernization influences the types of food that are available in our communities and taste preferences - food aversions, food marketing, food policy, sustainability, the role of the food environment and nutrition policy.
Holding this course in Australia provides a unique context to explore the differences between the United States in regards to food policies that may seem similar in certain ways and vastly different in others. Australia has a similar food profile yet their policy structure for commercials, advertising and family meals varies relative to their U.S. counterpart. By exploring these topics and visiting communities on the ground, students will begin to appreciate the role that marketing, food availability and policies plays in the shaping of food choices in the U.S.
Application Deadline: October 19, 2022
Travel Dates: December 27, 2022 – January 4, 2023
Program Contact: Dr. Amy Kostelic, amy.kostelic@uky.edu
Course Credit: AFE 396 (3 hours)
Virtual Course: December 19 - 23
Students will learn how health, well-being and longevity arise from cultural traditions on the Nicoya Peninsula of Costa Rica. This location was selected as the destination for this course because it is one of five areas designated as an international "Blue Zone", which is a place where people are more likely to reach a healthy age of 90+. The longevity of those living in Blue Zones is due to life purpose, family interaction, meaningful social connections, healthy diets, outdoor physical activity, and spirituality. Using these lifestyle dimensions as a guide, students will experience the balanced and integrated way of life in Costa Rica. Unique insights will be acquired through various hands-on activities, tours, observation and dialogue with local residents. Beyond core coursework, students will enhance their multicultural competency through site visits of historical, cultural, and contemporary significance. Students will stay 2 nights Nicoya, 2 nights in Playa Hermosa, 2 nights in Fortuna, and 2 nights in San Jose.    
CAFE Spring 2023 Programs
CAFE Summer 2023 Programs