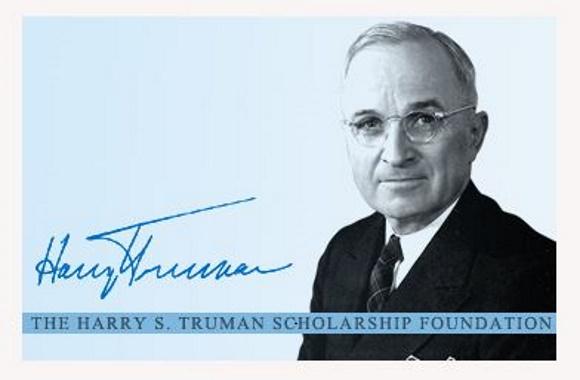 The Harry S. Truman Scholarship
The Truman Foundation is the nation's official living memorial to the thirty-third president and the presidential monument to public service. Created by Congress in 1975, the Foundation was President Truman's idea. 
The Truman is a very competitive national scholarship. Each year, the Foundation reviews over 600 applications for our 55 to 65 Scholarships awarded annually. These 600 applications do not include the students who compete on their own campus for one of a school's four nominations.
To be eligible, students must:
Must be a full-time student pursuing a bachelor's degree with junior-level academic standing; or, have senior-level standing in their third year of college enrollment. Note: Students who are already attending graduate school are not eligible for the Truman Scholarship.
Be a U.S. citizen (or a U.S. national) or expect to receive citizenship by the date the Scholarship will be awarded.
Have a career and graduate interest in government and/or public service.
Participated in student government and/or campus-based extracurricular activities. 
Community service participation that is not school-related.
Demonstrated leadership. 
Involved in organization or activities related to career. 
For access to the University of Kentucky Faculty Representative to be nominated for this scholarship, click here. 
Plan to apply? Reach out to the UK Office for Nationally Competitive Awards for guidance. 
For more information on The Harry S. Truman 2022 Scholarship Competition, click here
---